Swedish owners Mikael and Johanna Landström have enjoyed great success with Hotel Portixol in Palma, a waterside warehouse converted into a desirable `go to´ destination, so it was no surprise when they were to fall in love with the faded elegance of the Hotel Esplendido, built in 1954 in the Port of Soller.
Following a huge refurbishment and remodelling using cool Scandinavian design, they have restored this iconic property beauty into a modern day chic hotel.
Its position on the frontline with only the 100 year old tram to Sóller clicking past every so often, overlooking the Mediterranean sea with the majestic Tramuntana mountains as a back drop, is hard to beat.
As the sliding doors open to welcome you, your eyes are drawn to the immense chandalier hanging from four floors above. The light, bright and huge reception leads into a stylish lounge-bar and chill out area complete with easy-on-the-eye lighting and the obligatory Scandinavian retro-chic furnishings.
The simple white walls are dotted with contemporary art and complemented with light and bright furnishings in a mix of Mediterranean colours enlivened occasionally with bold-patterned wallpaper and uber-cool sofas to hang out on.
The bedrooms, spread over 4 floors, are all different in size and all follow the same theme of white with the occasional bold colour thrown in. Choosing between a sea view or garden patio room is all about booking luxury for less. Hotel Esplendido is sold out in the hot summer months but, as off-seasoners, you would definitely want to plump for the former, with or without balcony.
With a spa on the second floor, offering a full range of treatments, sauna, Turkish bath and heated indoor pool as well as a further two rooftop outdoor pools, one of which is heated, this is definitely a top choice for the discerning off-seasoner. If you don´t have the opportunity to stay here then why not enjoy MallorcanTonic´s exclusive Spa Day with Lunch at Hotel Espléndido.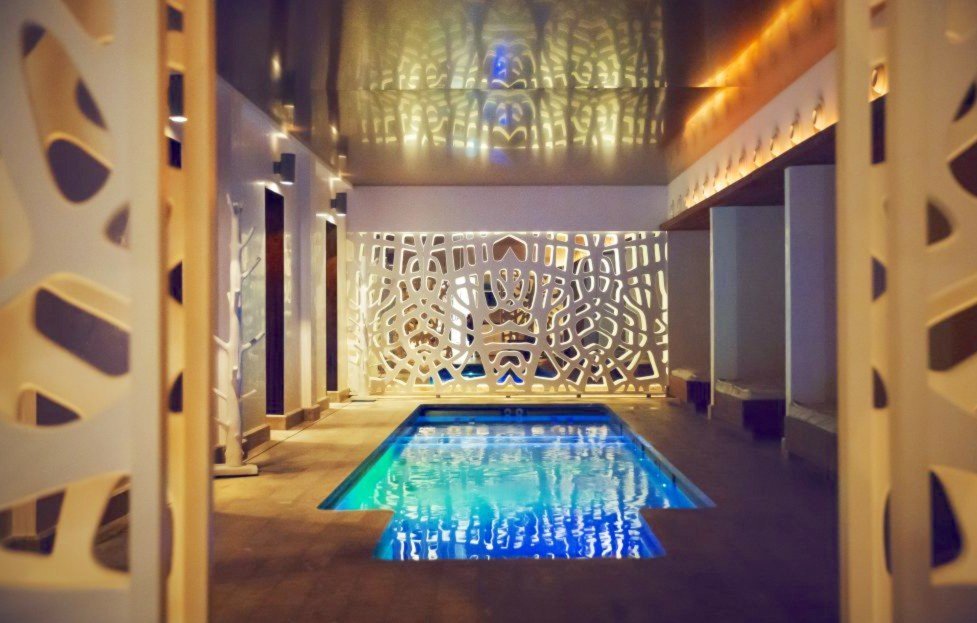 On the beach in front, whilst not private, the hotel have organised a concession to offer their guests a small section of sun loungers with a beach attendant serving drinks.
The Hotel Espléndido offers a lot to its guests who are looking for a haven of cool relaxation in an outstanding location. Take a look at Sollerweb which has a wealth of information about what to do and how to spend your time here.
SaveSave
SaveSave
SaveSave
SaveSave
SaveSave
SaveSave
SaveSave
SaveSave
SaveSave
SaveSave
SaveSave
SaveSave
Something Different
The Hotel Espléndido ( like its sister Hotel Portixol ) has a feeling rather than a formula which is not replicated anywhere else on the island. It is about modern clean lines, quirky Scandinavian furniture, a cool vibe with the background beat of chill-out music.
But here´s the thing, you don't feel out of place whether you are young or older, with or without children. From the minute you check-in, you feel relaxed and at home.
The staff clad in their white uniforms welcome you into their haven. Nothing is too much trouble.
All the rooms are stocked with little extras, Nespresso machines, flip-flops, beach bags, a CD player for you to enjoy music from the hotel´s library and even a DVD library that you can use if you just want to stay put and relax.
On the ground floor in the lounge area, you can pick up a magazine or newspaper or surf one of the Apple macs and upstairs on the second floor is the library where you can select a book or your own vinyl and have a listen to some of your favourite classics on the turntable provided.
No stone has been left unturned in imagining what extras could be provided that would make your holiday that little bit more memorable. Checkout the excellent reviews on Tripadvisor.
What's Special
It has be be the location. The scenic harbour of Port de Soller, with its fish restaurants, sandy beach and friendly atmosphere has seen huge changes in the last decade or so, not least of which is the completion of the tunnel diverting traffic behind the seafront, creating a stunning beach-side promenade, slap bang in the middle of which is the Hotel Espléndido.
Most of the bright and airy rooms look out to sea, most have terraces with stunning views across the horseshoe bay, allowing you to take in both lighthouses sitting proudly at the entrance of the harbour, hear the waves lapping below and enjoy the most unforgettable sunsets.
If you really fancy a splurg, you could treat yourselves to one of the Atico suites situated on the top floor with a large terrace facing the sea and garden terrace with loungers.
Restaurants
Breakfast is a leisurely affair served 08.00-11.00 am.
A buffet of meats, breads, fruits and freshly squeezed orange juice from the Sóller valley
as well as an à la carte hot menu is served on the terrace on the first floor.

The Bistro is open all day long, offering fresh Mediterranean and international cuisine based on local produce.

There is a snack bar menu as well as a full à la carte menu and a spacious cocktail bar & lounge, where you can sip away inside or out while watching the world go by.







Find out more